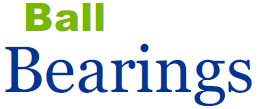 Ball Bearings, and specifically single row deep groove ball bearings, are the most widely used roller bearing type in the world. Ball bearings are used to reduce rotational friction and withstand both radial and axial loads.
Angular contact ball bearings are designed to tolerate significant axial loads in one direction along with radial loads. Single row angular contact bearings are often paired in a group of two or more, or ordered as a double row angular contact bearing for further economic benefit.
HMS offers a wide range of inch and metric single row deep groove ball bearings, single and double row angular contact ball bearings, and other types of precision ball bearings in a variety of configurations of seals, shields, greases, cage designs, and internal clearances.
To access our comprehensive product size/specification chart, please click on the links below to download the PDF file.
» 1600 Series – Radial Ball Bearings
» 6000 Series – Radial Ball Bearings
» 6200 Series – Radial Ball Bearings
» 6300 Series – Radial Ball Bearings
» 6400 Series – Radial Ball Bearings
» 6800 Series – Radial Ball Bearings
» 6900 Series – Radial Ball Bearings
» R-Series – Miniature Ball Bearings
» 600 Series – Miniature Ball Bearings
» 7000 Series – Angular Contact Ball Bearings
» 7200 Series – Angular Contact Ball Bearings
» 7300 Series – Angular Contact Ball Bearings
» 5200 Series – Double Row Angular Contact Ball Bearings
» 5300 Series – Double Row Angular Contact Ball Bearings
» 51100 Series – Single Direction Thrust Bearings